How do I access Recommendations for my entire Organization?
You can access organization level recommendations from optima.rightscale.com. You will need actor or observer role at the organization level to access these recommendations.
How do I access Recommendations for a Billing Center?
Within each billing centers, you will see a Recommendations tab showing recommendations scoped to that billing center. You can learn more about billing center recommendations here
What data does RightScale uses for generating recommendations?
Different recommendations are based on different data sources. Some recommendations are based solely on the cloud bill data from the cloud provider and are updated as and when the bill is updated by the cloud provider. Other recommendations require account-level credentials in order to gather more detailed information about resource usage. See the list of recommendations for more detail.
How old is the data on which recommendations are based on?
Recommendations are based on data that may be anywhere from a few hours to 36 hours in the past. More Details. Unattached Volumes (UAVs) data is refreshed every couple of minutes. However, what is seen in the Optima Recommendations depends on the rule settings(number of hours and/or cost savings threshold). If the rules settings is $1 and the minimum time is set to 1 hour, any UAVs matching that will be shown/updated in Optima/Billing Center Recommendations in 1 hour.
How often does Optima ingest the latest data?
Every two hours, RightScale Optima will check for new billing data to process. More Details. The first 36 hours of a month are the exception to this rule, due to a lack of data available to make recommendations.
Why doesn't the Savings amount in my recommendation match my bill?
RightScale Optima reports potential savings by analyzing your usage and computes a projected run-rate based on recent usage. In some circumstances, this can differ from your billed monthly cost for that resource, depending on your usage pattern.
Billed Cost: This represents the actual amount you were billed by the Cloud Provider.
Projected Run Rate: RightScale Optima analyzes your detailed billing data frequently and analyzes recent usage. Using this data, it extrapolates this level of recent usage for a full month in order to project your monthly costs and potential savings.
Example 1
It's the 15th of the month. The Cloud Provider bill for this month shows a month-to-date spend of $150 in a disallowed services. If this usage is shut down, Optima will project a $300 per month savings
Example 2
It's the 20th day of the month. The cloud provider bill for this month, shows shows $3000 of spend in a disallowed service. For the first 10 days of the month, the cost was $100/day, then usage increased on the 11th, going to $200/day. The cloud bill only has usage for 2/3 of the billing period at this point. ($3000, in the example). Assuming usage levels remains consistent, the final bill for the month should be $5000. Optima projects the savings, based on a full month of usage of the new run rate. If you continue to consume $200/day, the future monthly cost of this service will be $6000. Therefore, Optima projects savings of $6000, if this usage is terminated.
Do recommendations account for my existing discounts and pricing agreements?
Any existing discounts that are represented in the bill data (such as reserved instances) are used when calculating the current cost of a resource. To determine potential future cost, Optima uses public price information for AWS and your EA pricesheet for Azure. This ensures that recommendations are as conservative as possible and will not result in the recommended action being more expensive than the current state.
How do I modify recommendation's rule settings?
To change Rule Settings, navigate organization level recommendations from optima.rightscale.com and select the gear icon next to the Recommendation name: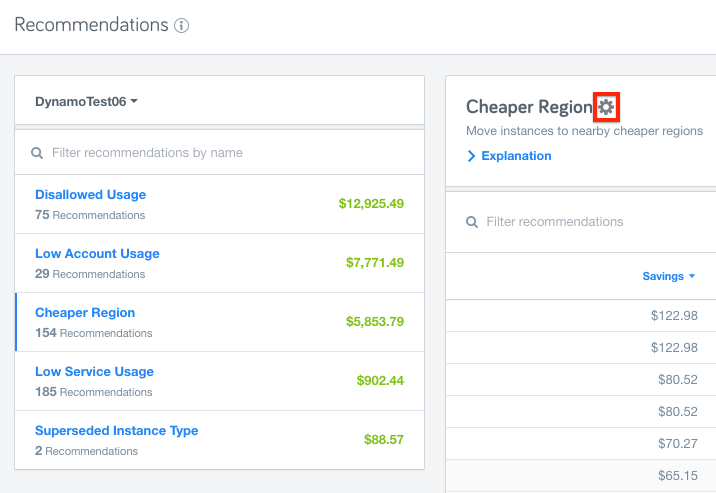 Then adjust the Rule Settings to your desired settings and click Save: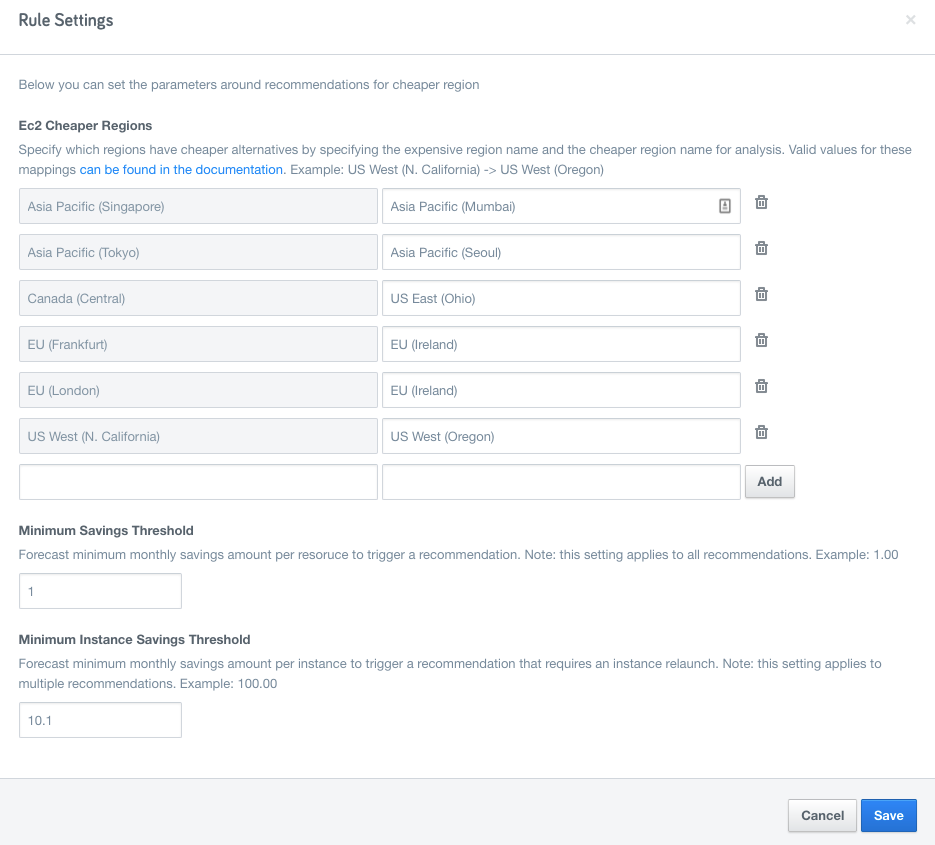 How long does it take for my rule setting changes to reflect on the recommendations?
The amount of time it takes a Rule Setting change to take effect varies based on the size of the data set. However, they are typically applied within a few seconds after clicking Save. A notification pop-up will appear indicating that the change is being applied:

How do I share recommendations?
To share all recommendations for a rule, click the Share button and then click Copy on the dialog box. This link is not public and can only be accessed by teammates who also have access to Optima.
To share details on a specific recommendation detail click the ... icon next to an individual recommendation and then click Share Recommendation and then click Copy on the dialog box.