Optima User Interface
Launching Optima
To use Optima, select Optima from the Product Selector drop down on the menu bar. Users must have role ca_user, in one or more accounts in the organization they belong, to access Optima.

Navigation Bar
The navigation bar on the left side of Optima lets you navigate between different pages. Use the icon on the left side of the blue bar to hide or show the navigation bar.

Optima Dashboard
The Optima Dashboard provides an overview of your monthly cloud costs across clouds, accounts and services for the last 12 months. The current month shows the month to date costs as colored bars and provides a forecast for the remainder of the month shown as a dashed line.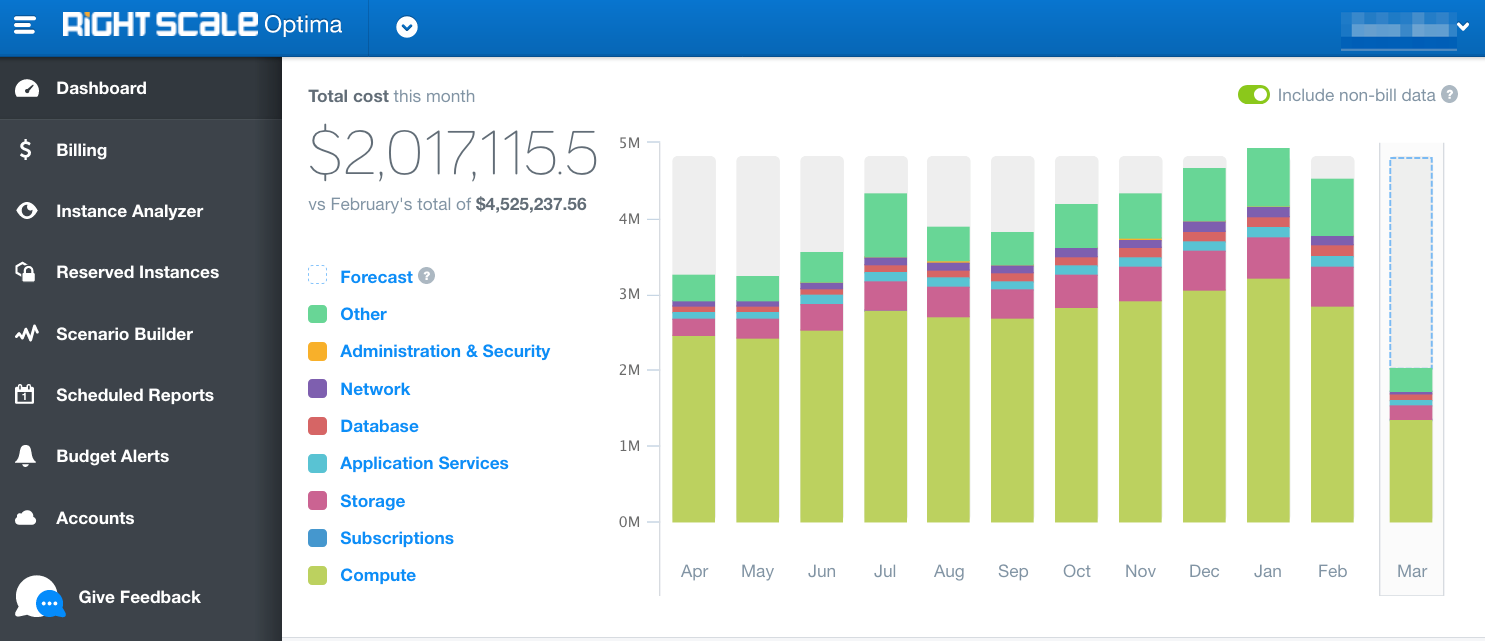 Hover over any month on the chart to see the breakdown of costs by category. Click on the colored bar for any month to view details for that month. The upper left of the chart shows the costs of the selected month and the prior month. The area below the chart provides a detailed breakdown.
Forecast
The forecast is calculated by multiplying the average daily spend from the current month (or combined with the previous month in the first 10 days of a month) excluding any Subscription charges.
Monthly Details
The lower portion of the Dashboard provides you with a detailed breakdown of the selected month.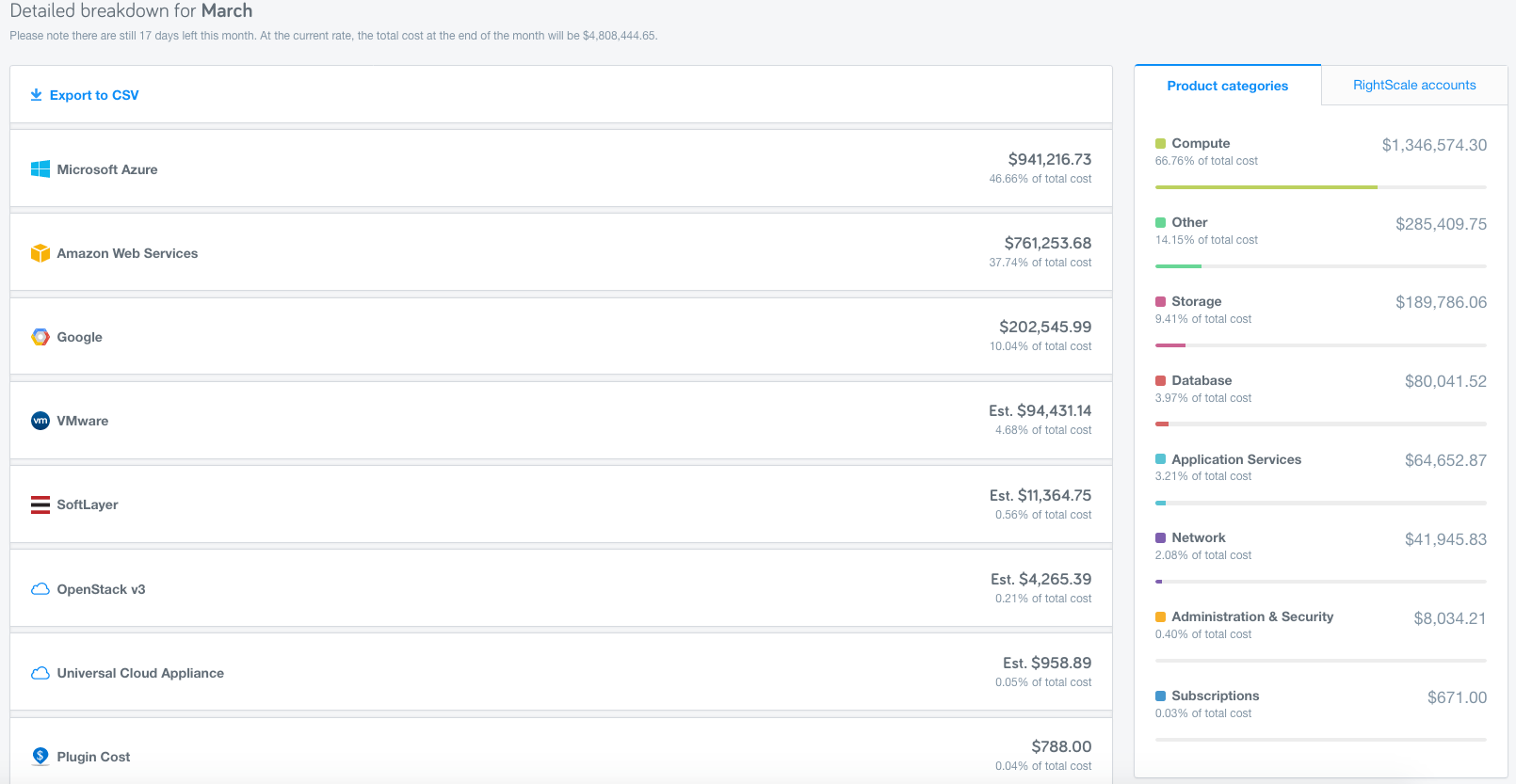 Drill down on any cloud to see costs for each cloud account and the percentage that represents of total costs for the month, and drill down on any cloud account to see costs by individual cloud service.
You can also review costs by category (and the percentage) as well as costs by RightScale account by clicking the appropriate tab on the right side of the Details panel.
Export Monthly Details
Click the Export button to export the detailed charges for the selected month to a CSV file or spreadsheet. The monthly charges for each cloud service will be broken down by RightScale account and cloud account. Account Tags will also be included in the report.
Cost Category Definitions
In the Dashboard view, costs from across clouds are organized into common categories for easy analysis. The following table describes how costs from each vendor's bill are categorized in the Dashboard.
| Category | AWS | Azure | GCP |
| --- | --- | --- | --- |
| Subscriptions | AmazonEC2ReservedInstances | | |
| Compute | AmazonEC2 | Batch, Cloud Services, Remote App, Virtual Machines | Vmimage, Licensed, SustainedUsageDiscount |
| Storage | AmazonS3, AmazonGlacier, EBS, AWS Import/Export | Storage, StorSimple, Search | Storage, LogStorage, ClassARequest, ClassBRequest |
| Network | AmazonQueueService, AwsStorageGateway, AmazonCloudFront, AWSDataTransfer, AWSDirectConnect, AmazonRoute53, AmazonRoute53Domains, AmazonElasticLoadBalancing, AmazonELB, ElasticMapReduce | Application Gateway, CDN, DNS, Data Transfer ('All'), ExpressRoute, Load Balancer, Traffic Manager, VPN Gateway, Virtual Network | Bandwidth, Network, ForwardingRule, StaticIp, VpnTunnel |
| Database | AmazonRDS, AmazonSimpleDB, AmazonDynamoDB, AmazonRedshift, AmazonElastiCache | DocumentDB, Redis Cache, SQL Data Warehouse, SQL Database | |
| Administration & Security | AWSDirectoryService, AWSConfig, CloudHSM, awskms, AmazonCloudWatch, AmazonIAM | Azure Active Directory, Multi-Factor Authentication | |
| Application Services | AmazonEMR, AmazonKinesis, datapipeline, AmazonSQS, AmazonSWF, AmazonAppStream, AmazonETS, AmazonSES, AmazonCloudSearch, AmazonSNS, AmazonFPS, AmazonCognito, MobileAnalytics, AmazonWorkSpaces, AmazonWorkDocs, AmazonZocalo, AmazonWorkMail, AWSLambda | API Management, App Service, Automation, Azure Site Recovery, Backup, BizTalk, Data Catalog, Data Factory, Event Hubs, HDInsight, Key Vault, Machine Learning, Media Services, Mobile Engagement, Mobile Services, Notifications Hubs, Operational Insights, Scheduler, Service Bus, Stream Analytics, Visual Studio, Visual Studio Application Insights | |
| Other | Anything else | Anything else | Anything else |