Note
The content on this page applies to the new Optima capabilities only. You can tell if you are enabled on these capabilities if you see a Tabular view tab in Billing Centers.
Overview
Billing centers can be configured in a hierarchical structure so that the cost reporting functionality in Optima can better match the reporting structure of your organization. Costs are allocated down the hierarchy, with each level providing additional splitting of costs into constituent buckets. Billing centers at every level of the hierarchy have much the same set of functionality, including custom cost reporting and user access controls.
Note
Sub-billing centers do not yet support scheduled reports, budget alerts, or recommendations. This functionality is coming soon.
Use hierarchical billing centers to break down your costs into the pieces small enough so that any cloud consumer in your organization can see the costs that are relevant to them.
There are no limits to the number of levels in the billing center hierarchy.
In order to create sub-billing centers and modify their allocation rules, the user must have the billing_center_admin role.
How it works
When configuring the hierarchy, it is important to understand the conceptual approach used to allocate costs to billing centers and sub-billing centers. Imagine all of the costs being funneled from the top down to each billing center - meaning that a child billing center will not have costs allocated to it unless they are allocated to its parent first. The following diagram demonstrates this concept - costs must first be allocated to any parent billing center before they can be allocated to a child billing center.
To accomplish this, each billing center has its own set of allocation rules, defining how the costs in that billing center are further allocated to its children. This is optional, so although each billing center can have a set of allocation rules, it may not.
For situations in which account-based allocation is exclusively used, this concept is relatively simple to understand - a given account cannot be allocated to a child if that account has not been allocated to its parent(s).
However, in scenarios that involve tag-based allocation, this rule does not quite hold true. This is because a given tag could have costs in any account, and it is not possible to know which account will have matching costs at the time of allocation rule definition.
The system will allow you to define any allocation rule at any level but when processing a bill and allocating costs, it follows the top down funnel rule. The use of tag-based rules and account-based rules is allowed, and the general concept of the costs funneling down will apply.
The UI attempts to assist in creating tag-based allocation rules by showing only those accounts that are possible to be allocated to the current billing center given rules higher up in the hierarchy.
Creating sub-billing centers and allocation rules
Note
To accomplish these tasks, a user must have the billing_center_admin role.
By default, billing centers do not have any sub-billing centers or allocation rules. To create a sub-billing center, navigate to the billing center that needs to be further decomposed. If there is not a Billing Centers or Allocation Rules tab, that means that no sub-billing centers currently exist. To create one, click on the green Create button in the upper-right hand corner of the billing center and select Billing Center as child of....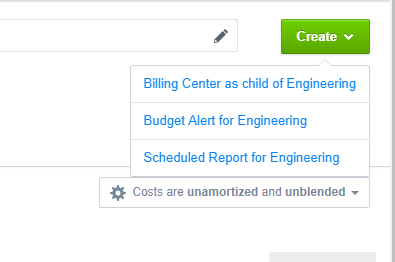 Once you create your first sub-billing center, the Billing Centers and Allocation Rules tabs will be available. From this point, you can follow the normal process for creating allocation rules, minding the concepts above.
Viewing sub-billing centers
To view the sub-billing centers of a given billing center, navigate to the billing center and select the Billing Centers tab. If you do not see that tab, then no sub-billing centers exist.

Permissions on sub-billing centers
Users can be granted access to billing centers at any level of the hierarchy - when a user has access to a billing center, they can see all of the information of that billing center, including all children below the billing center.
When a user navigates to the main billing center page, they are only able to see the highest parent in each branch of the hierarchy that they have access to. For example, given the following organization structure and a user that has been granted access to the highlighted billing centers.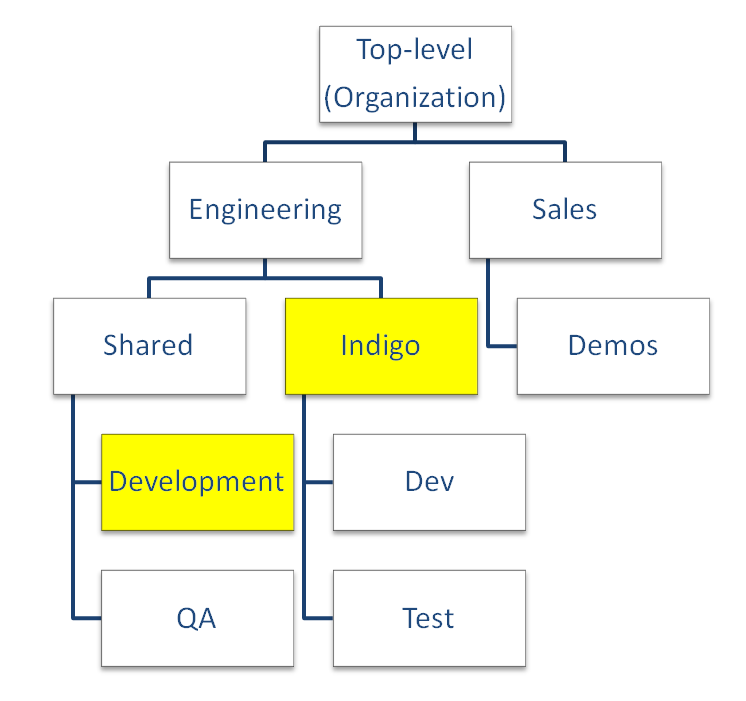 The user will have access to the Development billing center under Shared, and access to the Indigo billing center and all of its children. When viewing the top-level billing center page, the user will see the highest parent in each branch of the hierarch - in this case, Development (under Shared) and Indigo (under Engineering).